What's New In Next Gen Aventon – Aventon Bike Review
Posted on |
Next-Gen Aventon Bike Review – Aventon Bikes is a well-known electric bike brand. They are popular around the world with their comfortable and easy-to-ride design for all ages. Discovered back in 2013, they have come a long way with their design and technology. Previously, we have covered different Aventon Bikes models. But recently Aventon has introduced new technology and has made some changes in the design of their bikes. And not only does it look cool but also has an impact on the rider's experience.
Now let's deep dive into what's new in Aventon's technology and see what do they exactly change in designs. Let's take a quick look at the Next-Generation of Aventon E-bike and review them.
About Aventon Bikes
Before we do the review of what changes Aventon Bike made in their next-generation bikes, let's know a little about them. Starting from sourcing off shelf-components, the company's founder has worked hard to grow and successfully become one of the biggest suppliers in the e-bike industry. Their bikes are fun to ride for people of all ages. The bikes are built without compromising on Quality, Comfort, and Durability. Their aim is to replace your cars with electric bikes for everyday transport.
They started with a single gear fixed bicycle and have come all the way to the 7-speed brushless motor bikes with the best electronic equipment. Delivering the best design and quality without compromising on performance. Aventon makes sure to give you the best product justifying the price. Features Color LED Display, Integrated Lights, Integrated Battery and more. Now let's take a zoom-in look and see them closely.
If you want to read more about Aventon, You can read our Aventon Bikes Review
Next-Gen Aventon E-Bikes
Aventon has introduced new bikes after quite a long time, which they call their next-generation e-bike. The Next-Gen bikes are equipped with Backlit Colored LED Display, Integrated Lights, Better Software Technology (Sync with app), and Better Design with Integrated Motor and Battery. And not only this but there's more to next-gen Aventon bikes.
Let's talk about their Next-Generation Pace Models.
Aventon Pace 500 and 350
Both models of Aventon Bike the Pace 500 and Pace 350 are similar. The difference between them is the power motor. Pace 500 is integrated with a 500W Brushless Motor and a 48V Battery. And the Pace 350 is equipped with a 350W Brushless Hub Motor and a 36V Battery. Because of the powerful motor and battery, they deliver different speeds and ranges. Both bikes are incredibly powerful and fun to ride. Either you want to ride around the town or use it for going to school and work. They are your go-to rides.
What's New – Features
Color LCD Display
The state of Art Backlit LCD Display to keep track of your Battery Level, Range, Speed, Pedal-Assistance and more. And the new updated technology allows you to connect your bike with your smartphone. Easily Syncs with an App to control your bike with your fingertips.
Integrated Lights
The Bright LED Lights integrated into the tail and 40 lux headlight will make you look easy in dark. The tail lights sync with your brakes doesn't only make you visible but it looks cool too. Precisely fitted in the frame, the next-gen Aventon bikes make their design stand out.
Integrated Motor & Battery
A Fast-Charging Battery accompanied by a Powerful Motor perfectly fitted within the frame. Covered in classic graphics, it gives a good look when you pass by. When it comes to design, Aventon has done an amazing job in their next-gen bikes.
Puncture Resistant Tires
Puncture-Resistant tires give you peace of mind that you're not going to be stuck anywhere when you are riding on rough terrain. The added layer in the bike's tires prevents it from getting flat. Aventon has also added a reflective sidewall on their tires so you can ride safely in low light conditions.
Sinch Step-Through Foldable E-bike
Aventon Sinch Step-Through Foldable Ebike
Sinch Foldable E-bike is also a part of Aventon's Next Generation. And like the Pace models, they have made some changes in design and technology. But the main feature of the Next-Gen Sinch would be a Step-through Frame. Allowing you to get on and off the bike easily which makes it friendly to people of all ages.
Besides the new step-through feature, Aventon Sinch is incredible in itself. It is a foldable, portable, and storable e-bike that can be easily mounted and dismounted. The Fat tire bike is about giving anyone and everyone the ability to comfortably take the path they choose, no matter how rugged it may be. Equipped with a powerful 500W motor, you can ride it on terrain. NO matter how rough it is.
What's New – Features
Now let's talk about what features are you getting in the new Aventon Sinch Step-Through.
Color LCD Display
The New Color Display gives you all the bike's information. From Speed, Battery Level, Distance Traveled, Pedal-Assist Level, and more. You can see it all at one glance. Also, this colored screen can be synced with Aventon Mobile App so you can control your bike with just your smartphone.
Step-Through Frame
Aventon has introduced the step-through frame in their foldable e-bike which could be gaming changing. The foldable step-through frame allows easy portability and storage so you can own a heavy-duty compact electric bike.
FAT Tires
The Sinch ST is equipped with 4″ fat tires accompanied by terrific front suspension so you can go over any rough terrain. Without compromising on the rider's comfort, it gives you the confidence to ride on any terrain.
Foldable Frame
The Sinch ST folds and unfolds quickly. This means you can fit it in the car's trunks, closets, RVs, or even under the desk. Simply open the e-bike, close the clamp, lift the handlebars, close the clamp and you are all set to ride.
Motor & Battery
Equipped with a powerful 500W motor combined with a 14Ah battery gives you enough power to cover 40 miles range at 20Mph Top Speed. Featured with 5-level Pedal-Assistance so you can get yourself home once the journey is over. Select the pedal-assist level at the right speed for you. Or choose not to pedal at all with a thumb throttle at your fingertips.
Aventon Bikes launched a new single-speed e-bike this year, which is called Aventon Soltera. A class II commuter e-bike equipped with a 350W motor, topping the speed of 20mph. The 10Ah battery gives you an average of 40 miles, featuring the five-level pedal-assist to throttle yourself to the destination without putting too much effort. The Aventon Soltera has many other incredible features as well, such as Color LCD Display, Integrated Lights, Aggressive Frame Geometry, and more.
One more interesting thing about Aventon Soltera is it doesn't only come in a single-speed variant but a 7-speed variant as well. The 7-speed Aventon Soltera shares almost the same features and specs. Both e-bikes come in Step-through frames as well so you can get on and off the bike easily.
You can also read the detailed review of Aventon Soltera by clicking the button below
Aventon Mobile App
Connect Your E-Bike with Smartphone
Aventon Bikes has launched its mobile app which you can use on Android and iOS. Now you can connect your bike with your smartphone. The app offers a lot of benefits and features to Aventon riders. You can connect your bike with the app and control all the functions with just your smartphone. Here's a little guide on how to connect the Aventon app with your e-bike and how to use it.
Connecting Aventon App with Bike
Download the Aventon App on your Mobile and Create an account. Once you created an account follow these steps to connect with the colored screen on your bike.
Turn your e-bike on and enter the menu by holding the center button (i)
Scroll through the menu using (+ / –) buttons and select "Connect to App". A QR code will pop up.
Open the Aventon App and select "Scan Pair" then scan the QR code shown on the e-bike's display.
Give your electric bike a nickname and click confirm to finalize.
You've paired your bike! You can now customize your riding experience via the app.
Customize Your E-Bike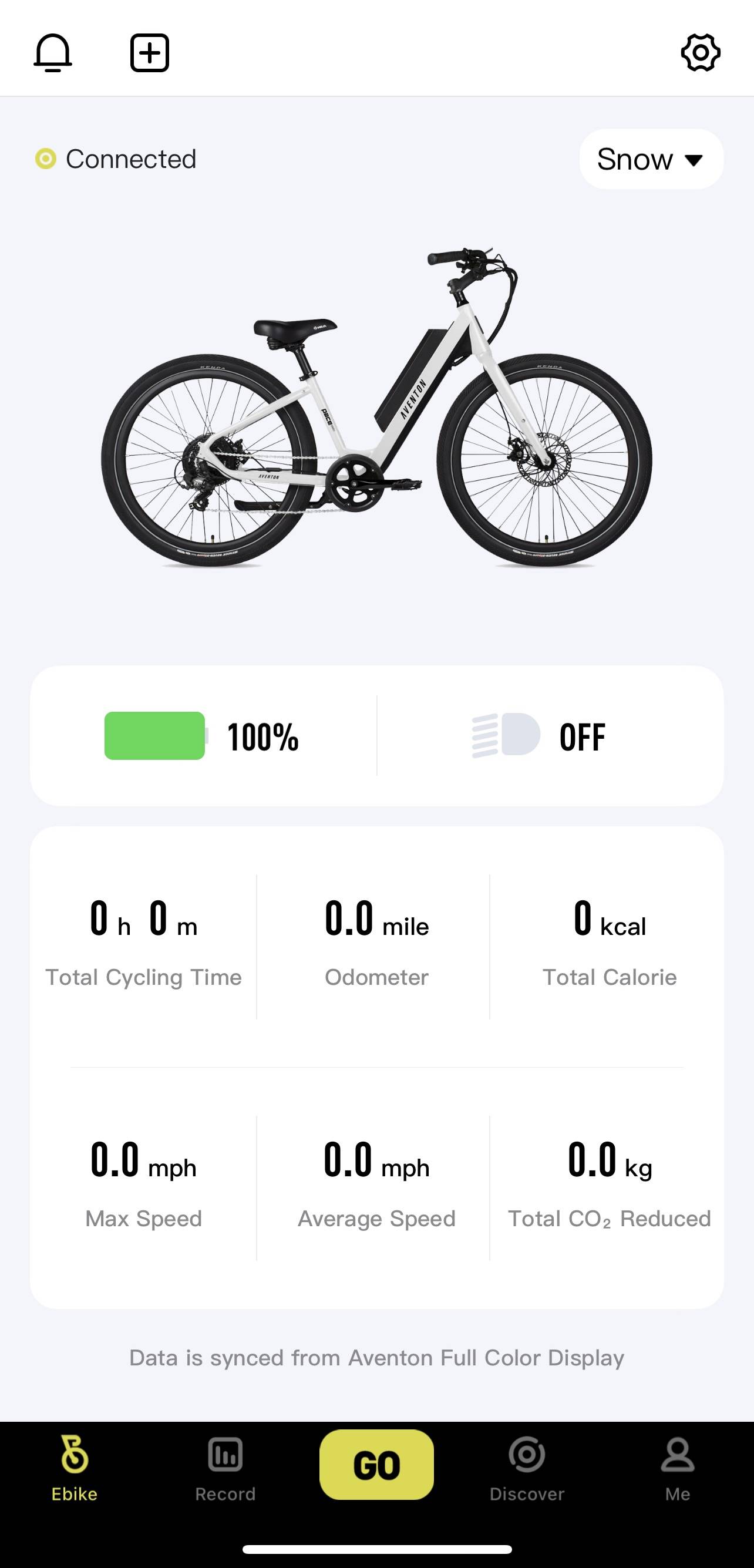 You can customize everything in your e-bike with the Aventon app. Go to the E-Bike section in the app, here you can see all the information about your bike. From here, you can customize everything on your Aventon bike. You can also turn on / off your e-bike's lights.
Here's what you can control/customize from the app. Tap the setting icon in the top-right corner of the screen.
View and Edit your E-bike Nickname.
Adjust the brightness of your LCD Display screen.
Customize the Auto power off time. Once it reaches the limit you set, the backlight will get dim.
Increase or decrease the Speed Limit of your Aventon bike. (This feature is really useful for parents.)
Switch between KM/H and MPH according to your preference.
The app also allows you to set personal goals to achieve.
You can also unpair your device from the bike at the bottom of the settings page. You need to unpair your device before pairing a new one.
Track Your Journey with Aventon App
In the Aventon app, you can record your rides and see how you progressed over time. This section keeps a record of your overall ride history. Here you can see all your insights: total miles tracked, calories burned, CO2 emissions reduced, trees saved and cycling time. It saves all the ride's history each month, so you can filter it by month or year.
You can also live track your rides. You can pinpoint your exact location and record your live rides by pressing the play button. While recording your ride the app will also track data included: max speed, CO2 reduction, calories recorded, and more.
Connect with Community
One of the best features of the Aventon app is Discover. Here you can connect with other aventon riders in the community. You can share insights about your rides, swap stories, and share pictures with each other. You can also ask for any advice or share tips for new beginners. And just like a social platform, you can like, comment or even share posts.
How to Connect with Aventon Mobile App
Save Money at Aventon Bikes
Recently Aventon has been offering some good discount offers to their customers. The latest discount offer from Aventon is $200 OFF on all of their first-gen electric bike, which is mentioned in this review. You can also save up to $125 on each bike when you purchase 2 next-gen aventon bikes by using coupons from Saving Says.
Flat 50% Off All Equipment
Enjoy Flat 50% Off All Equipment at Aventon Bikes
(Not applicable with Black Friday Deals)
Flat 50% Off All Equipment
Enjoy Flat 50% Off All Equipment at Aventon Bikes
(Not applicable with Black Friday Deals)
Cyber Monday Sale – $200 Off All E-Bikes + 20% Off All Accessories & Components
Cyber Monday Sale – $200 Off All E-Bikes + 20% Off All Accessories & Components at Aventon Bikes
Valid Till November 29, 2022
Cyber Monday Sale – $200 Off All E-Bikes + 20% Off All Accessories & Components
Cyber Monday Sale – $200 Off All E-Bikes + 20% Off All Accessories & Components at Aventon Bikes
Valid Till November 29, 2022
5% Off E-Bikes + Free Shipping
Enjoy 5% Off E-Bikes + Free Shipping at Aventon Bikes
***Selected Items Only***
5% Off E-Bikes + Free Shipping
Enjoy 5% Off E-Bikes + Free Shipping at Aventon Bikes
***Selected Items Only***
Warranty & Returns
Not to forget about the 1-Year warranty Aventon Bikes provides on all of their e-bikes. All the components, including frame fixtures and finishes (paint and decals), are warranted. If you face any issues with your bike you can claim the warranty and they will repair or replace it.
They also have a 14-Day Refund policy. So if you want to replace or return your bike, you can send them within 14 days. Although, the return/shipping charges need to be covered by you.
Delivery & Payment
Aventon offers free shipping all over the USA on all of their electric bikes. And the estimated delivery time for the US is 3-5 business days.
You can pay to Aventon by using any Visa card / MasterCard. They also accept payments from Apple Pay, Google Pay or PayPal. And if you want to pay in installments, you are lucky. Because Aventon uses Affirm services that allow you to pay in up to 12 monthly installments for as low as $109/month.
Next-Gen Aventon Bike Customer Review
Connect with Aventon Bikes
Aventon Bikes Next-Generation [Listed]
Conclusion
Aventon has made a statement with their Next-Gen Ebikes. The Design and Technology they introduced in their new bikes are amazing. It sets a good impression when you pass by other riders. And like always, their electric bikes are friendly to all ages, so you can enjoy riding in your neighborhood or the beach no matter what your age or size is.
Above we have summed up a quick overview of these New-Generation E-bikes and tried to explain all the things you will need to know about their new lineup of electric bikes and the Mobile App. We hope it was useful and you enjoyed reading it. If you would like to read a detailed review of the Aventon bike you can see the articles below.
More Aventon Bike Review(s)