Awara Sleep Review – A Good Mattress Experience
Posted on |
Good sleep improves your brain performance, mood, and health. If you are lacking quality sleep, it might raise the risk of certain diseases including high blood pressure, cardiovascular disease, or even premature death. In that case, a quality mattress from Awara Sleep can help you overcome all the disorders that were the cause of your sleepless nights. Read the detailed review and get to know more about Awara Sleep Mattresses.
Awara Sleep Mattresses not only help you sleep comfortably, but they also keep your natural spinal alignment and body posture in place. Awara offers different mattresses for all ages and shapes. Whether you are having a bad posture or sleepless nights. Awara has got everyone covered by providing quality nighttime sleep, power nap, and rest at every minute of the day.
Here in this Awara Sleep review, we'll help you in finding the highest quality mattress from Awara Sleep, which specialized in making mattresses with 100% organic materials.
About Awara Sleep
Awara Sleep is owned by Resident Home. They ranks the Natural Hybrid mattress at a 7 out of 10 on the firmness scale, describing it as medium-firm. This firmness level can suit a range of sleeper types. The mattress is made using latex foam, which is known to be supportive and bouncy, as well as a layer of coils.
Awara Sleep Detailed Review
Awara Sleep specializes in producing natural and organic mattresses. Their flagship product is the Awara Luxury Hybrid Mattress, which is made with a combination of natural latex, organic cotton, and innerspring coils.
The latex used in the Awara mattress is made from the sap of rubber trees and is known for its durability, breathability, and resistance to dust mites and mold. The cotton used is also organic, which means it is grown without the use of pesticides or synthetic fertilizers, making it a more environmental-friendly.
The innerspring coils provide support and motion isolation, while the latex and cotton layers provide comfort and pressure relief. The mattress also features a removable and washable cover made from organic cotton. Awara Sleep is known for its commitment to using natural and organic materials, as well as its focus on sustainable practices.
Awara Sleep offers a 365-night sleep trial, free shipping, and a lifetime warranty for their mattresses.
Why Awara Sleep?
The Awara mattress is a 13" hybrid mattress made with a layer of Rainforest Alliance-Certified Dunlop latex that has been crafted to provide you with better sleep. The natural Dunlop latex is coupled with premium coil springs that adjust according to your body's unique curves. Awara's covers are made with natural cotton and 100% organic wool fiber from New Zealand.
When you buy a mattress from Awara Sleep, they plant 10 trees in Kenya, Senegal, Uganda, or Tanzania.

1) Plush Euro Top with New Zealand Wool
The plush Euro Top is covered with smooth cotton and organic New Zealand wool. It provides you with the best sleeping experience possible while avoiding the use of harsh materials that may cause irritation depending on your skin type.
2) Breathable Natural Dunlop Latex
The Awara Mattress consists of a breathable Dunlop latex of 4 inches. It contours according to your body curves and helps you with bad posture.
3) Premium Coil supports Core
The mattresses of Awara upholds support from 8″ coils. Whether your kid jumps on it or your partner tosses and turns. There will be a very low-motion transfer.
4) Easy-Move Base with 4 Reinforced Handles
Reinforced handles are attached to 4 sides of the mattress to make an easy move. It is made from a cotton blend to have a supportive base even when rotating or revolving around.
Natural Hybrid Mattress
Awara Sleep offers a Natural Hybrid Mattress that is built with premium natural Latex, cozy New Zealand wool, and silky organic cotton. The hybrid mattress of Awara provides luxurious sleep and comfort for all ages in every condition.
Hybrid mattresses are ideal for people who prefer a firmer and warmer sleeping surface. You can shop for Awara Mattresses in 6 different sizes: Twin, Twin XL, Full, Queen, King, and Cal King. The Awara mattress is available in thickness of 10″ – 12″. The weight of the mattresses are according to their sizes.
With the best edge support, you don't have to worry about falling from Awara Sleep even in your deepest dreams. You can have tosses and turns even without disturbing the person sleeping next to you.
Pros
365 Nights trial & lifetime warranty
| Size | Dimensions | Weight | Price |
| --- | --- | --- | --- |
| Twin | 38"W x 75"L x 10"H | 59 LBS | $799 |
| Twin XL | 38"W x 80"L x 10"H | 63 LBS | $899 |
| Full | 54"W x 75"L x 10"H | 81 LBS | $999 |
| Queen | 60"W x 80"L x 10"H | 91 LBS | $1,099 |
| King | 76"W x 80"L x 10"H | 116 LBS | $1,399 |
| Cal King | 72"W x 84"L x 10"H | 116 LBS | $1,399 |
Premier Natural Hybrid Mattress
The Premier Natural Hybrid Mattress is made from Sri Lankan latex and is wrapped with coil springs that provide you contour and a touch of bounce for supportive sleep throughout the night.
Back and side sleepers can own this mattress with closed eyes as it provides good spinal alignment. Unlike slow-moving memory foam which holds you in position, the Awara moves with you according to your body curves and without sinking you into the bed.
Awara premier mattress is best for those who are going through a difficult period like back pain, shoulder pain, and back stiffness. While the national health departments show that medium-firm mattresses could be good for people who have body pains.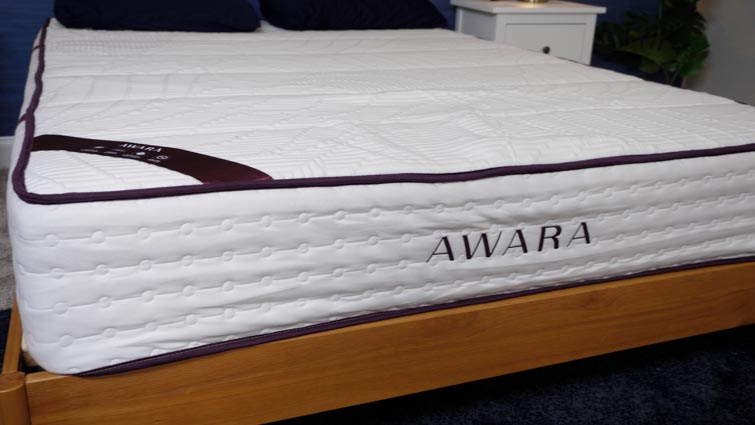 Pros
Great for allergy sufferers
Made of sustainable, organic materials
Cons
Not suitable for a Murphy bed
| Size | Dimensions | Weight | Price |
| --- | --- | --- | --- |
| Twin | 38"W x 75"L x 12"H | 56 LBS | $1,099 |
| Twin XL | 38"W x 80"L x 12"H | 59 LBS | $1,299 |
| Full | 54"W x 75"L x 12"H | 79 LBS | $1,399 |
| Queen | 60"W x 80"L x 12"H | 100 LBS | $1,499 |
| King | 76"W x 80"L x 12"H | 118 LBS | $1,799 |
| Cal King | 72"W x 84"L x 12"H | 119 LBS | $1,799 |
Awara Bed Frames
The Platform Bed For Better Sleep
Awara Sleep offers a complete bed with a simple setup. This bed has been crafted with solid nature spruce and wooden slats are spaced four inches apart for optimal support. At the same time, reducing the potential for mattress sagging. The platform bed is made with a stylish design and is available in 6 different sizes: Twin, Twin XL, Full, Queen, King, and Cal King. You can buy the bed according to the size of your room. The prices are based on the bed size you'll buy.
The Bed Frame With Headboard
The headboard + bed frame features an upholstered, button-tufted headboard that enhances the look of your bed. On the other hand, a metal frame with wooden slats supports your mattress and saves it from any damage. There is no box spring or additional frame needed. You'll get an ideal foundation for your mattress, the Awara's bed frame with headboard has a durable solid wood slat foundation.
The Awara Adjustable Bed Frame
You can elevate your bedroom with the adjustable bed frame from Awara Sleep. You can always adjust your mattress to the position of your choice to provide customized comfort and ultimate relaxation as per your requirements. These include additional electrical outlets, USB ports for charging, night lamps, alarms, and massagers. There are high-tech adjustable beds with "smart" features, like sensors to read heart rate, breathing, and movement.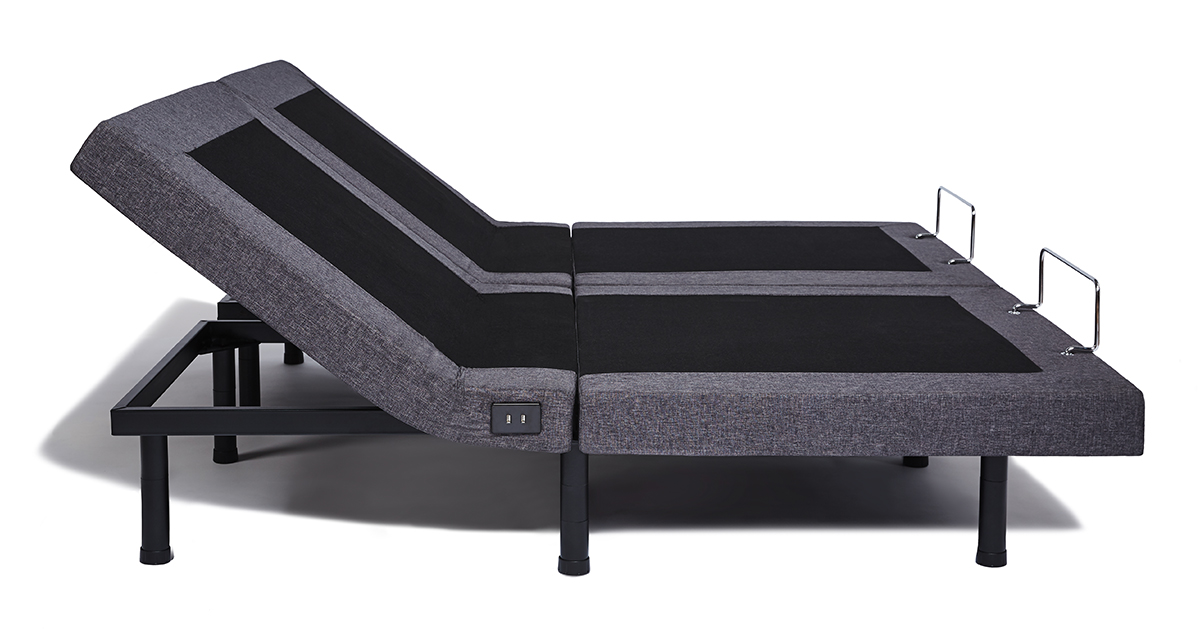 Awara Sleep Bedding
| Image | Product | Features | Price |
| --- | --- | --- | --- |
| | | These sheets made from 100% natural fibers will help you sleep cool and feel like your favorite shirt against your skin. | Check Price |
| | | This protector is designed to be an invisible barrier to protect your mattress from spills, dirt, and pets while helping your body sleep cool and comfortably, each and every night. | Check Price |
| | | The quilted cotton mattress pad is constructed from premium GOTS-certified organic cotton in both fabric and fill, making it extra soft and safe to sleep on. | Check Price |
| | | Quality pillows with a soft, breathable cotton cover and plush support | Check Price |
| | | The Duvet cover features an ultra-cool Percale weave that is lightweight, breathable, and crisp to the touch to stay cool in summers and warm in winters. | Check Price |
Suitable Sleepers With Awara Bed
Awara is a latex mattress with understructure coils. The coils are pretty obvious in the way it feels when you lay on them, you do not feel as though you are sleeping on a layer of coils. It is what we would refer to as an innerspring-like bed with a foam covering. For pressure reduction, the latex and coils of the mattress are designed to provide more space for different body types and ages. In general, lighter, average-weight, and heavier back or stomach sleepers may benefit from these materials.
Couples
Latex is the only material that can absorb the disturbance on the mattress caused by your partner. This ensures you sleep peacefully even if your partner moves around on the bed. A mattress that does not trap heat.
Most foam mattress trap heat and hence the sleeper sleeps feeling hot. Also, all couples should appreciate Awara's mattress for its edge support prevents the perimeter from collapsing when you sleep and sit in that area.
Combination Sleepers
Most combination sleepers spend their night on their back or stomach, it would be best if they're also on their heavier side. It will allow them to experience the most possible pressure relief from the mattress. Combination sleepers never have any trouble switching positions while sleeping.
This mattress is bouncy which makes it good for combination sleepers and people with mobility issues. However, the bounce takes away from motion isolation which can be a cause of any problem for restless sleepers and those who share the bed.
Side Sleepers
The Natural Hybrid should feel comfortable on the shoulders and hips for side sleepers of average weight, especially those who weigh nearly 130 pounds. To prevent pressure buildup, their weight should be sufficient to penetrate the latex layer.
A softer sleep surface could be helpful for side sleepers in order to reduce the pressure on the hips and shoulders. To maintain their body in a natural, healthy alignment, side sleepers usually require extra pressure on the comfort system around their hips and shoulders.
Back & Stomach Sleepers
Being in the middle of the scale, the Awara is versatile and comfortable for a range of sleepers. The main caveat is that some stomach sleepers ultimately opt for firm (7-8 on the firmness scale) mattresses, especially if they have a higher weight as they place greater pressure on the mattress. For that reason, the Premier Latex Hybrid is workable for any stomach sleeper but it may be best well-suited for those under 130 pounds.
Thickness
It was created by Awara Sleep with two different layers that are each 10 inches tall. A 2-inch latex comfort layer on top of the mattress will keep you upright while the 8-inch layer of individually wrapped coils on the bottom side of the mattress keeps you on the surface.
Motion Transfer
Motion isolation prevents you from being disturbed by your bed partner's movement. Each coil of Awara's mattress is wrapped with core fabric, which helps to reduce motion transfer. The pocketed-coil architecture supports the springs to move more independently while being connected to the coils close by. In comparison to conventional springs, they offer better motion isolation and contouring.
Edge Support
Awara Sleep's hybrid mattress offers more edge support which is 100x better than other foam mattresses. The sturdy edges allow you to take advantage of the entire surface of the mattress without feeling like you're sinking into the bed or rolling down to the floor.
The Awara's durable edge support is beneficial for anyone who gravitates toward the edge of the bed while they sleep, as well as people who like to sit on the corner of their bed to put on their shoes.
Temperature
The coil in the mattress is made for air to pass through easily, which plays a huge role in breathability. Mattress covers made of cotton and wool have moisture-wicking properties that can help you stay cool and dry as you sleep. Due to all of Awara Sleep's combined qualities, hot sleepers will adore this mattress.
Awara Sleep Comparison
Choosing between Awara & Avocado? Well, the materials are almost the same in both's manufacturing. Avocado offers you 25 years warranty on a mattress that has 3-zone coils. Their mattress is made with included chemicals that are not good for the skin and could be a cause of sleeplessness.
On the other hand, Awara offers you a lifetime warranty for mattresses including 8 individual coils for premium support. Also, Awara provides non-chemicals adhesive mattresses that are also water-based alternatives.
According to Ghostbed, they use lab-perfected materials for their mattresses. Also, the sleep trial they offer is for only 100 nights and provides 25 years warranty. Ghostbed's patented lab-perfected materials are no match for Awara's handcrafted, natural mattress.
Awara Sleep's hand-crafted mattress defeats Ghostbed's lab-perfected materials and Awara offers 365 nights sleep trial. They use certified organic materials to make mattresses that are good for your health and body as well. Awara never compromised on their craftmanship.
Eight Sleep basically is an E-Mattress, that features Wake Up Technology, Heart Rate monitoring, and a Regular Health Check report. But the mattress doesn't work without a wireless signal. The Pod uses water to regulate the temperature of your mattress. Also, the Pod makes some soft noise while priming that will disturb you while sleeping. Eight Sleep offers you just 100 days of sleep trial and the price is more uncomfortable than the mattress.
Where Eight Sleep offers you an uncomfortable noisy experience, Awara Sleep offers you the best sleeping experience on a mattress that has been made with certified natural materials. At a very affordable price, Awara Sleep provides you with free service to repair or exchange your bed in case of any damage in 10 Years. The innerspring coils of Awara's mattress provide support and motion isolation, while the latex and cotton layers provide comfort and pressure relief without any electrical connection.
BedInABox is also a big brand but as we've searched, sleepers reported some durability issues in the mattress. The mattress is pretty good but offers 120 nights sleep trial which we think is not enough in comparison to Awara Sleep. Also, the comfort material isn't very thick and could create pressure issues for heavy-weight sleepers. The mattress type is foam which is Close-conforming with above-average motion isolation and pressure relief.
Awara Sleep has never been reported for any kind of issue with the mattress. The comfort material in Awara Sleep is much thicker than BedInABox, which is very good for heavy-weight sleepers. When BedInABox offers you a foam mattress, Awara Sleep provides you with a hybrid material mattress that is a bit good than foam. The main difference between memory foam mattresses and hybrid models lies in the support core. While memory foam mattresses typically contain a high-density polyfoam core, hybrids use a coil system.
Save Money At Awara Sleep
Awara Sleep Coupons
Saving money is always fun while shopping online. The best way of saving money at Awara Sleep is by using Coupons and Deals. If you don't want to spend much on online shopping, then you must check out the amazing Awara Sleep discount at SavingSays.com which can help you to spend less on purchasing comfort. We offer discount codes and coupons in huge quantities for approx every brand. You can always find promo codes for your favorite brands.
$250 Off Sheets, Protector & Pillows
Get Sheets, Protector & Pillows included At Awara Sleep
$250 Off Sheets, Protector & Pillows
Get Sheets, Protector & Pillows included At Awara Sleep
$300 Off All Mattresses
$300 Off All Mattresses At Awara Sleep
$300 Off All Mattresses
$300 Off All Mattresses At Awara Sleep
$200 Off Bed Frame With Headboard
Get $200 Off Bed Frame With Headboard At Awara Sleep
$200 Off Bed Frame With Headboard
Get $200 Off Bed Frame With Headboard At Awara Sleep
First Responder Discount
Awara Sleep always tries to keep its customers hooked and happy with its services. You can get an exclusive discount of $375 if you're a First Responder. Our belief is why spending too much when there are ways to save extra money. So you can always claim your Coupons & Promo Codes through SavingSays.com. Currently, there are 8+ active offers waiting for you.
365 Night Trial
With Awara's 365-Night trial, you'll get an entire year to decide whether or not you enjoy your Awara mattress. This is a unique, industry-leading trial period. Choosing a new mattress is an investment of time, energy, and money. So give yourself one less thing to stress over and try the Awara mattress risk-free. Your 365-Night trial begins on the date of delivery for the USA only.
Warranty
Other than 365 Night Trial, Awara offers a 10 years Warranty for its customers. Awara believes that mattresses are a big investment and should stay for a lifetime. If you experience any defects such as significant sagging or structural breakdown due to the manufacturing process, Awara will either repair or replace your mattress free of cost in the USA.
Shipping & Returns
Awara Sleep offers free shipping for purchases being delivered within the 48 contiguous states. Shipping costs for deliveries to Guam, AK, HI, and other locations are not refundable.
You can obtain shipping and returns from Awara. Shipping is quick, and installation is easy. They understand that sleep is a personal matter, therefore if you do choose to return, they will cooperate with you to arrange for a local mattress donation or disposal (USA only).
Awara Sleep Customer Review
There was a very slight smell fresh out of the box but it dissipated quickly. I'm very confident in the non toxic materials in this mattress, which was a top priority
…Read More
Mallory O.
PerfectionI'm a picky sleeper. I'm not proud of that, it's just true. An old neck injury and a general restless streak make for unsatisfying sleep a lot of the time. I've tried all the tricks, including some other high-end mattresses.
…Read More
Tim G.
We did a lot of research and finally decided on the Awara natural hybrid mattress. We Couldn't be happier. I sleeping better and feeling more rested in morning
…Read More
Michael S.
I was using a Lucid mattress before, and after 4 years, the thing just sagged so much where we sleep. Yes we rotated it regularly, but unfortunately it didn't matter.
…Read More
Heather W.
Where should I start! This is such a fantastic mattress! From the minute you open the box you notice that the mattress does not smell! My priority was buying a mattress that had no chemicals.
…Read More
Felicia P.
CloudMy husband and I are so happy with our purchase. The bed is so comfortable and I literally call it "the cloud" because it really feels like I am sleeping on a cloud
…Read More
Jesenia P.
We've been sleeping on the Awara mattress for a month now… and I mean sleeping. It's both comfy and firm, yet not so much
…Read More
Karen C.
Socialize With Awara Sleep
Conclusion
After all, Awara Sleep is a brand that produces mattresses with natural materials. After reading the review, you might be thinking of purchasing a mattress from Awara Sleep. Among all the mattresses, if you want to purchase one for yourself, we'll refer you to go with the Natural Premier Hybrid Mattress. As it moves with you according to your body curves, you'll get the best sleeping experience with it.
Also, if you find it expensive, you can save extra money by using Awara Sleep coupons & promo codes through SavingSays.com. Awara sleep offers a complete natural sleeping package at a very affordable price so that you can easily purchase your bed.
Frequently Asked Questions
Q. Can I save money or get a discount at Awara Sleep?
Ans: Yes, you can save money at Awara Sleep by using Coupons and Promo codes from SavingSays.com, currently there are 8+ active offers to avail.
Q. What is Awara Mattress made of?
Ans: Awara Mattress is made from 100% Organic cotton, New Zealand wool, and Dunlop latex.
Q. Does Awara Sleep offers free shipping?
Ans: Free shipping applies to purchases being delivered within the contiguous US.
Q. Does Awara Sleep offer a warranty?
Ans: Yes, Awara Sleep provides you with a warranty, which means you can return or repair your item within 10 years of your order if you're not fully satisfied.
Q. Does Awara Sleep offers any discount?
Ans: Yes, Awara Sleep is currently offering an exclusive discount for First Responders.
Q. Does Awara Sleep ship international orders?
Ans: Yes, as a global working organization, Awara Sleep ships International orders.
Q. How do I contact Awara Sleep?
Ans: You can always contact Awara sleep through their Contact Number: +1 (855) 580-1382
Related Reviews & Guides